The latest innovation from First Lite's hunting line features a waterfowl-specific camouflage called Typha. And MeatEater sweetens the pot with three new waterfowl-focused series.
MeatEater's hunting apparel brand First Lite continues to stretch its wings. And this time, its aim hits the waterfowl blinds, layouts, and boats of hunters everywhere.
The latest innovation from the brand is a proprietary waterfowl camo pattern called Typha. The word "typha" refers to the genus that includes marsh flora species most would know as cattails, reeds, or bulrush.
In addition to the release of Typha, MeatEater (owner of First Lite) will be releasing a heck of a lot more waterfowl content, including three new focused series. Read on for more on both releases.
Waterfowl Apparel, Films From MeatEater and First Lite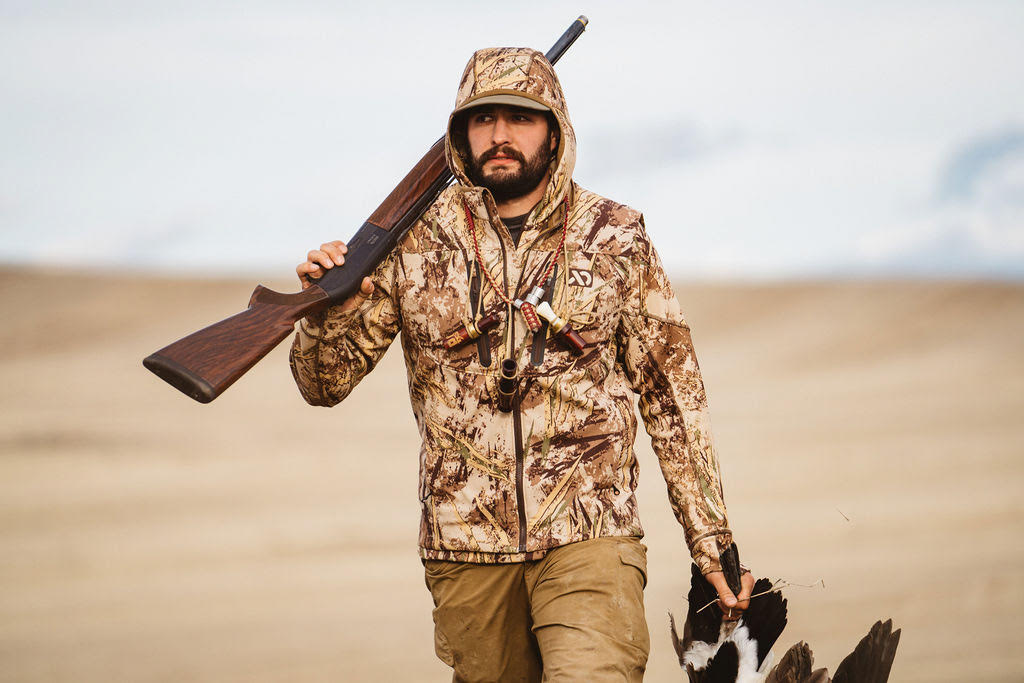 First Lite enthusiasts can expect a full line from the brand in summer 2022. Though we don't yet have specifics, the brand says base layers, outer layers, and accessories are on the docket.
"Since its inception, First Lite has endeavored to bring the highest-quality apparel to market, utilizing the most advanced fabrics and construction in the outdoor industry," said Ross Copperman, MeatEater chief commerce officer. "We have been extremely successful in doing just that with whitetail as well as Western big game, and waterfowl is the natural extension of our expertise."
"With the design and development of waterfowl-specific products and the Typha pattern, we are setting up 2022 to be the year that First Lite brings innovation to a category that has been waiting for meaningful improvement for a very long time," he continued.
And to double down on this new offering, MeatEater will offer three new opportunities for viewers to get their waterfowl fix on screen. The brand describes each as the following:
"Duck Lore," featuring MeatEater's resident waterfowl expert Sean Weaver, will follow Sean and other members of the MeatEater crew as they chase waterfowl across 12 states
Season 2 of Chef Jean-Paul Bourgeois' "Duck Camp Dinners" explores the intersection between the history of traditional duck camps in Southern Louisiana and the food cooked in them
"Duckmade" is an original series featuring First Lite staff that chronicles the journey of First Lite's lifelong waterfowlers as they hunt from the Pacific to the Atlantic flyways
"Waterfowl hunting is a riot and truly some of the most fun you can legally have. And we're excited to be expanding into this growing category in such a meaningful way this year," said MeatEater founder and Chief Creative Officer Steven Rinella.
"I sure as hell have learned a lot about shooting and cooking ducks and geese from Sean, Jean-Paul, and our other resident waterfowl experts and know the MeatEater audience will too."
The first of the three to be released is "Duck Lore," which is set to drop on Feb. 15 via MeatEater's website and YouTube channel.