Fly fishing gifts are notoriously difficult to find. Thankfully, GearJunkie's Hunt & Fish Editor is here to lend a helping hand.
There are so many niche items for specific areas or species. If you aren't intimately familiar with what the fisherman in your life already has, uses, or is targeting, it can be tough to find the right gift.
Nothing is worse than that dreaded look of disappointment, followed by the forced, "Ohhhhhh. Thanks?" Yikes.
Whether you're looking for a quick stocking stuffer or planning to go all out on the best fishing kayak money can buy, we can help you find the gear that is sure to please the fisherman in your life.
Tying flies is rewarding. Even for those fishermen who have been casting a fly for a lifetime, catching one on a fly you tied yourself is one of the best feelings. The Orvis Fly Tying Kit ($198) comes with everything a fisherman needs to get started.
This kit makes a great gift for experienced fly fishermen and for those just starting out. If you have a child who is just getting into the world of fishing, this is a great activity kit to keep them busy during the long winter months. Or if you happen to have a fisherman on your list who has absolutely everything but doesn't tie their own flies, this is a safe bet.
Check Price at AmazonCheck Price at Orvis
The finest fishing fashion for fly fisherman. Yeah, we went there.
Sight Line Provisions creates the most beautiful jewelry and accessories for fishermen and hunters of all kinds. From leather bracelets to shotgun cuffs, there is something for just about every outdoorsman. With species ranging from trout to elk, the artistry in every piece is apparent.
This is one of those gifts that stands out from the rest. It's definitely a statement piece and one that will be cherished, especially by any fly angler in your life.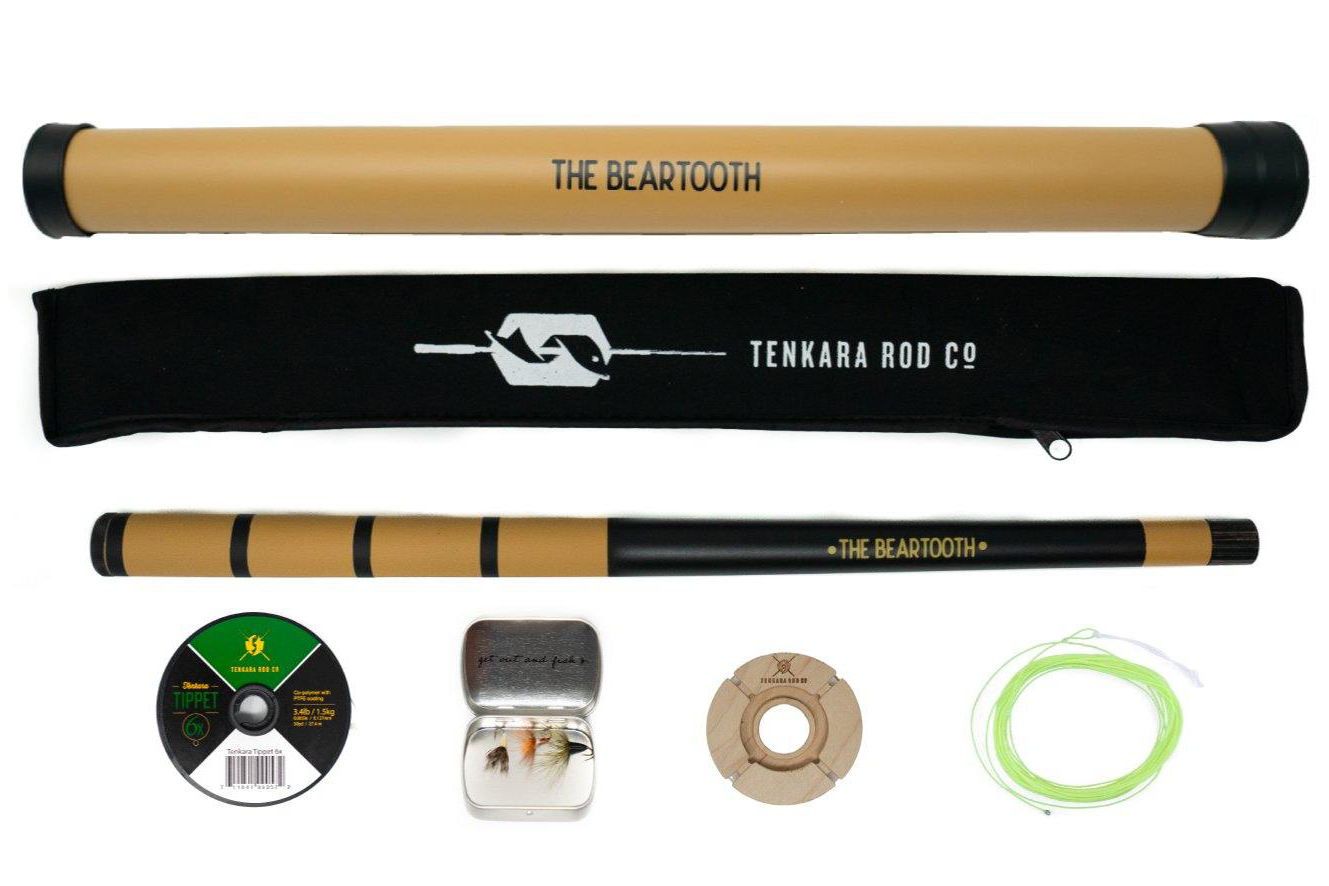 There's something so pure about Tenkara fishing. It's perfect for beginners, but cherished by professionals. It's a way to get started and a way to go back to basics. The simplicity is where it's at.
Whether for someone new to the water or an old timer who has it all, the Beartooth kit ($225) from Tenkara Rod Co. is an epic gift. This is one of those areas of fly fishing that few anglers even realize they need in their lives.
It has everything you need in a super-compact package that can be tossed in a daypack, hunting pack, or left in the truck for those off-shoot opportunities that may arise.
Check Price at Tenkara Rod Co.
Let's be real: These are sick. Winner of multiple "Best Gift" categories at this year's IFTD show, Cody's Fish art is just cool. Each piece is unique and Cody travels the country in search of vintage license plates from the places inhabited by the species he emulates.
If you want a brown trout made entirely of vintage Montana plates, yeah … he can do that.
This isn't cheesy, gas-station art. This is a custom art piece that is well-worth showing off in your home and every fly fisherman I know would love to have one.
Check Price at Cody's Fish
Korkers makes the best wading boots. How's that for an intro? We say it because, well … it's true.
With BOA lacing and interchangeable soles for every changing condition, these boots are a once-in-a-lifetime purchase. When the soles wear out, replace the sole, not the boot. It's cost effective, environmentally conscious, and just the most practical way to keep your favorite boots in the water.
With both a men's and women's lineup for wading and winter boots, Korkers has what any fly fisherman on your list might need.
Check Price at Korkers
A good fishing shirt can be worn to the office so after-work fishing is a breeze. Orvis makes that exact style of shirts.
The Pro Stretch Long-Sleeved Shirt ($129) happens to be a favorite around these parts, but honestly, the full lineup of fishing shirts from Orvis is both functional and practical. Any one of them fit at a boardroom table as well as they do on the bank of the river.
These aren't the lowest-cost fishing shirts out there, but they are high quality, comfortable, durable, and long lasting. With lens cleaners on the front seam and buckles to snap up sleeves, these shirts really are built for fishermen.
Check Price at Orvis
---
Looking for more gift ideas? Here you go: