Can corner crossing from one piece of public land to another cause $7.75 million in damages to the neighbor? One ranch owner in Wyoming thinks so.
Corner crossing is a contentious topic that seems to pit large private landowners and public land hunters against each other.
We covered the sensational corner crossing case in Wyoming, where four hunters were found not guilty and then charged yet again for a separate incident by the same ranch owner.
In what can only be described as an undying vendetta, Iron Bar Holdings LLC, the legal owner of Elk Mountain Ranch in Wyoming, decided to take the fight to civil court by suing the four acquitted hunters.
The claim: The four hunters (who built a ladder system to ensure they did not make contact with the private land) caused $3.1-7.75 million in damages to Elk Mountain Ranch by momentarily entering airspace just above the property.
What Is Corner Crossing?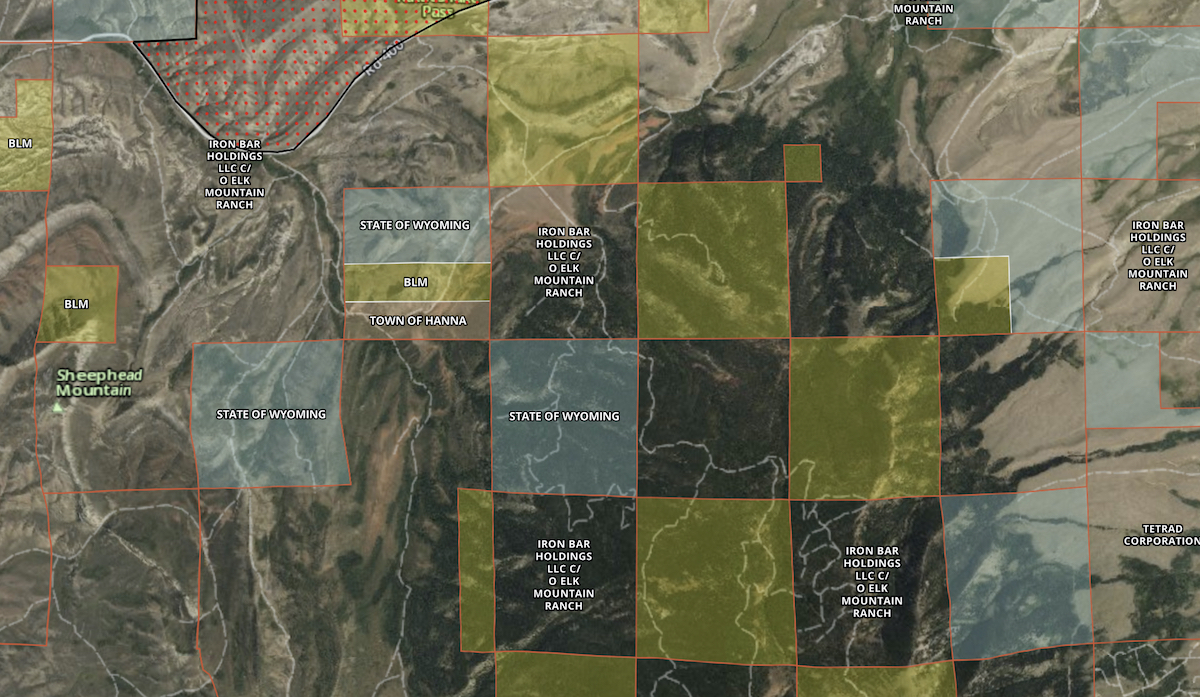 Corner crossing is the act of traveling between two pieces of public land at an intersection where it often meets with private land. Elk Mountain Ranch encompasses several parcels of land that intersect with public land at corners (see above). Without the ability to cross, that chunk becomes landlocked.
Many states do not define corner crossing as legal or illegal. It falls in the gray area of opinion.
The four hunters, Brad Cape, John Slowensky, Zach Smith, and Phil Yeomans, built a makeshift structure to cross between one section of public land to another without touching any portion of Elk Mountain Ranch's property.
However, the owner of the ranch sees things differently. The claim is that by entering the airspace of the ranch, even momentarily, it violated the exclusive use, possession, and control of the private property.
Elk Mountain Ranch
Iron Bar Holdings LLC, run by Fred Eshelman of North Carolina, owns Elk Mountain Ranch. Eshelman is a former pharmaceutical executive who amassed a multimillion-dollar fortune in the industry. Forbes estimates his current net worth to be north of $380 million.
As for the 22,042-acre ranch, in 2017 it was appraised by Norman C. Wheeler & Associates for $31.31 million. Described as national park-like, the ranch boasts incredible views and plentiful wildlife. Home to bison, elk, antelope, and mule deer, hunting opportunities on the ranch are nearly endless.
The Corner Crossing Damages and Trial
The list of actual damages, estimated between $3.1 million and $7.75 million, accounts for the diminution of value of the ranch caused by the four men who crossed at its corner. The suit listed several other line items, including interfering with a hunting program on the ranch and with ranch operations.
Those involved in the case received documents relating to the damages, served on Aug. 29. The civil trial is likely to take place next summer.
The Implications for Public Access
Without access to public land via corner crossing, the obvious benefit to the neighboring private land owner is clear. If your land meets at a junction with public land, you now solely control the access and use of that piece of public land. In essence, it becomes private.
Lawsuits like this one are a slippery slope. Found not guilty of trespassing, these four hunters could still be financially liable for the "damages" of their actions. In this case, not guilty does not mean innocent.
Without clear and concise regulations, corner crossing will continue to be an area where the opinion of legality will dictate action. It is something that states, in short order, will have to begin resolving. Until then, hunters will continue to be harassed, dissuaded, and litigated off public lands.
Federal laws exist that address the right of public access. The defense in these cases often sights one act in particular.
The Unlawful Inclosures Act of 1885 is fairly clear about barring access to public land.
"… Obstruction of settlement on or transit over public lands. No person, by force, threats, intimidation, or by any fencing or inclosing, or any other unlawful means, shall prevent or obstruct, or shall combine and confederate with others to prevent or obstruct, any person from peaceably entering upon or establishing a settlement or residence on any tract of public land subject to settlement or entry under the public land laws of the United States, or shall prevent or obstruct free passage or transit over or through the public lands…"
It will be interesting to see where this case goes and what precedent it sets. There is a lot to lose, not only for those in this trial, but for public land hunters across the U.S.