The Packing It Out duo, Seth 'Cap' Orme and Paul 'Spice' Twedt, have completed all 2,650 miles of the Pacific Crest Trail. Along the way, they packed out more than 720 pounds of trash, while inspiring people and brands around the nation to a greater level of environmental stewardship.
Their feat is awe-inspiring and heart-warming, and their positive attitudes and love for the outdoors are contagious. Seth, a Packing It Out founder, wrote the following article, wrapping up a series of first-hand reports from their PCT quest.
---
When you think of finishing a thru-hike, you probably imagine a huge celebration with all of your fellow hikers, drinking beers and telling stories. This is true in many respects.
The part that isn't always considered is what happens after all that and where all of this is taking place. As I sit in a hotel lobby in a remote section of British Columbia with no less than twenty other hikers waiting for a 2:00 a.m. bus ride to Vancouver, I can't help but laugh at the situation. Sure, we completed the Pacific Crest Trail, but we're still very much in the woods.
The celebration dinner was nothing short of great. Not because it came from the 3-in-1 café/convenience store/pub, but because we didn't have to prepare it ourselves.
To many, the thought of having only one dinner option and then sitting in a hotel lobby for six hours might sound pretty terrible. For this group of thru-hikers, it's a warm meal and free shelter from the cold autumn weather. The hike is over but it's obvious that the journey is still in full swing.
Some hikers have family come scoop them up, taking the fast track home. For most, there is some block of waiting to be had. This is an important part of the journey. This block of time, whether spent in a hotel lobby or on a plane, is so important because it gives us a moment to digest what just happened. Which begs the question, "What did just happen?!"
As I peer back at the last five months I'm flooded with images from the last 2,650 miles. Each moment feels like it happened just a week ago. Our May 6th start is the first of a thousand images.
Similar to our Appalachian Trail clean-up effort in 2015, we were once again questioning our sanity as we packed out over 40 pounds of trash on our first day. I still remember the voice in my head begging, "Are you sure you're ready for this, again?" I forget how I answered that question; 2,630 miles still remained.
The Desert
After hiking 700 miles through the desert, many of us thru-hikers become lazy with our description of its landscape. What was once described as vast or spectacular, often gets relabeled as simply hot, dry. There is something to be said for each descriptor used.
For us, the word was trashy. In the 700 miles we hiked across the desert to reach the base of the Sierra Mountains, we picked up the overwhelming majority of trash found along the Pacific Crest Trail. We removed close to 600 pounds of trash in that first 700 miles. Again, that concerned questioning voice came back into my head. There was still 1,950 miles to clean.
The Sierra And Northern California
Upon entering the Sierras, we quickly found ourselves living the high life, quite literally. We seldom descended below 9,000 feet. The raw beauty of this place made it one of our favorite locations along the PCT.
The thought of Kings Canyon National Park still gives us goosebumps. The trash levels were thankfully lower as well! Anything we did find had to be carried for the long haul. We packed out a pair of 6-pound leather boots over 100 miles before finding them a proper resting place. Long climbs and long descents sum up the terrain in the Sierras.
After descending from Sonora Pass, we entered the Northern Section of California. This section seemed to just fly by. I guess because it did! With manageable trash levels and our hiking strength at its peak, we decided to see what our bodies could do.
What resulted was a series of 200-plus-mile weeks that involved a good bit of jogging. A section between Mt. Lassen and Mt. Shasta called Hat Creek Rim stands out in my mind. It's a 20-plus-mile section without water. After taking a quick detour to see the Subway Caves and another stop to pack out a dirty diaper, Spice and I trotted away the miles.
It was only after jogging 41 miles that we found out the heat index for the day was settling around 130 degrees. Despite the heat, we stayed physically and mentally sound throughout the day.
I still remember the looks we got when we jogged up to a rest area with a dirty diaper and full backpacks. We toned the miles down to the upper-30s for the rest of California.
A few days off-trail for speaking engagements gave our legs the rest they needed for the last two states, Oregon and Washington. Over 1,700 miles down and less than 1,000 to go!
Oregon
Oregon is notorious for big-mile days. Many thru-hikers attempt what's called the "Two Week Challenge." This is where you attempt to hike 33-plus miles a day through Oregon to complete the state in only two weeks.
We liked this idea, but thought better of it the moment we entered the state. With unknown trash levels, copious huckleberries, and incredible lakes, we just couldn't find the will to speed up.
As a result, we took our time by cutting the mileage down to roughly a marathon a day. At a 3 mph standard, we were able to mostly avoid walking at night. As we approached the end of Oregon we finally started getting a glimpse of the weather Washington is known for. A few cold, rainy days near Mt. Jefferson reminded us that the rest of this trail wasn't going to be a "Piece of Cake."
Washington
At this point in the journey, our connection with the outside world started to dwindle. Fewer opportunities for phone service, paired with short resupply stops, left us pretty much off the grid.
Leaving the Oregon border behind, we climbed out of Cascade Locks with heavy packs. More food and additional warm layers had us prepared for whatever Washington would throw our way. Everyone said that Washington's weather would get nasty, especially in the fall. As the days and miles faded away, we saw nothing but sunshine and a cool breeze.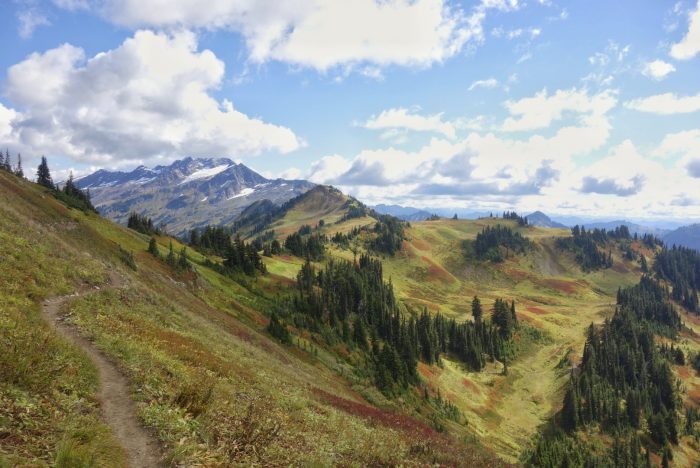 We made it almost halfway through the state before the proverbial hammer dropped. Our one planned zero-mile day in Washington resulted in us dodging a massive rain storm. With a dry climb out of Snoqualmie Pass under our belts, we were blown away at how scenic and rugged this section of the PCT was becoming.
Once we were nestled deep into one of the most challenging sections of the trail, the rain came. A couple of long, wet days put us into Skykomish where we would get our second-to-last resupply package.
We weren't at all anticipating what came next. A series of events resulted in the most challenging and ridiculous three days of our entire journey.
70 Hours
With 109 miles between us and our final resupply package, Paul and I were beyond stoked to get to that final parcel. But the odds quickly started stacking against us.
First, we realized that the Skykomish post office didn't open until 11:30 a.m. on Wednesday. We would burn half a day waiting for a small supply package, and have a little over three days to make it to Stehekin, Wash., for our coveted final package.
No problems there; except, we quickly realized that we would be arriving into Stehekin, which is only accessible by foot, ferry, or plane, on a Saturday. The post office was only open from noon to 2:00 p.m. on Saturdays.
This realization shortened our window even more. So, with about 72 hours between us and the 12:15 bus shuttle to the post office, we decided to bust a move and get to the package we needed instead of being held up in an expensive resort destination for multiple days waiting for a parcel we could (and did) live without.
Thankfully, the trash load throughout this section was minimal. Toilet paper along the trail plagued us, but overall we were able to move pretty well. We averaged 36 miles per 24 hours during this rugged section of trail, each day netting over 10,000 feet of climbing and 10,000 feet of descending. Did I mention it was raining?
All said and done, we made it to Stehekin with an hour to spare. I won't discuss the amount of sleep we deprived ourselves of.
Finishing It Up
With that whole debacle behind us, we loaded our packs and charged north for the final 80 miles of the PCT. The trail was on our side during those last 80. Clear skies and beautiful views filled every day as we approached the northern terminus. On September 28th at 10:00 a.m., Paul and I took our final steps on the PCT. Canada had arrived!
It's about at this point in the story that I draw a blank. The image of Monument 78 is burned into my mind. The image is crystal clear but the words are hard to find. The best way I can describe it is like finishing a good book while simultaneously over-eating during the best meal of your life.
You're stunned, dazed, and wondering what the hell just happened. All the emotions and all of the flavors are hitting you at once. You just stare dumbfounded…thankful…humbled.
Moving Forward
The 2:00 a.m. bus arrived right on time. I misspoke when I said there were only 20 hikers waiting to get on the bus.
Thru-hikers started showing up out of the woodwork once the bus arrived. I'm a little bummed that I didn't get the opportunity to apologize to the bus driver for having to deal with our smelly packs and bodies. So it goes.
I'm fortunate enough to have the opportunity of getting to write this finishing article for you all on a "real live" computer! The Vancouver library has been a godsend and is the only reason I'm able to get this information to you all this quick. The whole typing on the iPhone is rough, just rough.
With some distance between us and the trail, I'm beginning to digest this whole experience, and what blows me away the most is the generosity of all the wonderful people who have helped us along the way. Behind all the companies that helped us were individuals that saw the importance of what we were trying to achieve this year.
I can't thank you all enough for investing in our mission to inspire a greater level of environmental stewardship in our communities.
To the friends and family that helped with logistics, this trip wouldn't have happened without you. To the complete strangers that we now have the pleasure of calling friends, your unfiltered generosity is what keeps us believing. Thank you all so so very much. Until next time.
Much love,
Seth "Cap" Orme
---
–Find previous reports from the Packing It Out due on our landing page. On 9/29/2016, the group finished their trash-removing thru-hike of the iconic Pacific Crest Trail. In total, they removed over 720 pounds of trash from the trail. Connect with Paul and Seth on Instagram, Twitter, and their blog.