Looking for the best ski goggles or a pair of snow goggles for snowmobiling, hiking, or exploring winter storms? We've got you covered with our list of the best goggles.
Modern ski goggles are wonders of technology. Unlike years past, there's no reason to suffer through fogged goggles or obscured vision. And with advanced features like photochromic lenses, contrast-enhancing light filtration, and easy lens interchange, you no longer have to squint or strain to see.
Our team has tested dozens of pairs of goggles over the past two winters to bring you our favorites. We break these down into multiple categories to help you choose the best snow goggles for your needs and budget.
Even the best goggles will suck if they don't fit your face. Be sure to check out the tips on how to buy goggles at the end of this article.
Don't want to learn about ski goggles but want the best on the market at any price? Check out the Smith I/O Mag ChromaPop.
Looking for a goggle with the best venting on the market that you can even wear while climbing uphill and sweating? Grab the Julbo Aerospace.
And if good quality at an affordable price is your top concern, the Smith Range Goggles are hard to beat.
Scroll through to see all of our recommended buys or jump to the category you're looking for. At the end of our list, be sure to check out our comprehensive buyer's guide, as well as our comparison chart. And if you have some questions, take a look at our list of frequently asked questions.
The Best Ski Goggles of 2022-2023
If you're looking for excellent eye protection that doesn't sacrifice clarity in constantly changing light conditions, look no further than the Smith I/O Mag ChromaPop ($270). This premium goggle is made with a spherical lens that curves along both the X and Y axis, which elevates the acuity, and we found that to be true across all conditions from super sunny to blustery and flat light days. The special shape also improves overall fit, volume, and fog prevention.
With a frameless design, bending the goggle isn't as flexible as Smith's less fancy Range but the I/O is still super comfortable to wear all day. We tested two of the 15 lens options: the Storm Rose Flash for low light conditions with a 50% visible light transmission and the Everyday Rose Gold Mirror for more moderate protection. All of the lenses have the brand's proprietary ChromaPop technology, which enhances detail, contrast, and true color while reducing eye fatigue.
For our testers that wear contacts and live in arid Colorado, we appreciate that. Also, the lenses are super easy to swap out via a release lever on either side of the lens, which is held in place by seven magnets along the internal edge.
Best for: Excellent clarity, especially in variable and low light conditions
Specs:
Lenses: 2
Frame Size: Medium
Lens Shape: Spherical
Pros:
Easy to quickly change out lenses
Anti-fog interior lens design
Cons:
Lenses are easily smudged while swapping due to the frameless design
Check Price at REICheck Price at Amazon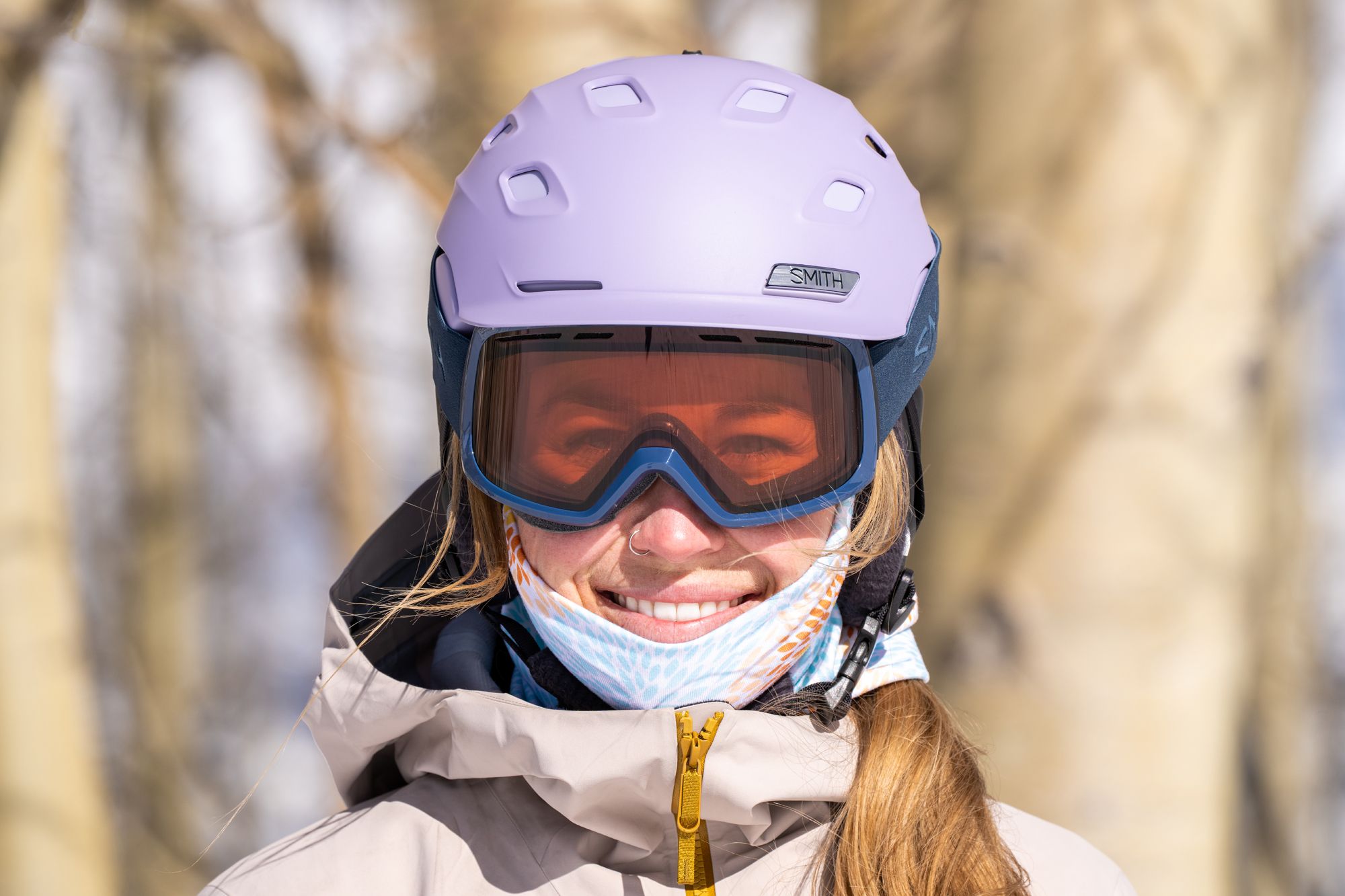 Albeit not as fancy as our top pick, the Smith Range ($80) is a significantly lower price and does the job well. With a wide field of view, the design protected our eyes in super bright and gusty conditions, no problem. These goggles also have Smith's Fog-x interior lens, a micro-etched surface that absorbs and disperses moisture to prevent fog, which worked well when we had our face mask pulled up during icy wind spells.
Ultimately, these goggles are simple, flexible, and comfortable. The wide strap is super easy to slide and adjust. Thanks to the interior silicone strip, the goggles stayed put against the back of our helmet. We tested the universal lens RC36, a tint with 36% visible light transmission. The lens does a great job of cutting glare across all conditions and increases contrast just enough, but there are 16 lens options available for this goggle.
Best for: A pair of all-around goggles if you're on a tight budget
Specs:
Lenses: 1
Frame Size: Large
Lens Shape: Cylindrical
Pros:
Economic price tag
Wide field of view
Available in Low Bridge Fit for lower nose bridges or wide or high cheekbones
Cons:
Doesn't include a bonus lens
Not a quick-switch lens design
Check Price at REICheck Price at Amazon

With the 4D MAG ($320), Smith gives us the best field of view we've experienced in a ski goggles. And it does this in a medium-fit design that should work on most faces. The 4D MAG puts a fourth dimension on its spherical lens with a bend at the bottom that allows a better downward view.
Couple that with exceptional optics, an easy magnetic lens-change system, and a comfortable fit, and this goggle is a winner. The only downsides are the price and the fact that the bottom of the lens can gather snow.
Best for: Skiers seeking the largest field of view on the market
Specs:
Lenses: 2
Frame Size: Medium
Lens Shape: Spherical
Pros:
Excellent peripheral vision
Easy lens changing system
Cons:
Check Price at REICheck Price at Amazon
The Anon WM3 MIF ($270) has a traditional cylindrical lens style with Anon's PERCEIVE Lens technology. The brand's new technology increases contrast and provides crisper and clearer optics. (We tried lenses with a 34% VLT, plus a bonus lens with a 6% VLT for brighter days.)
But that's not all. The goggles have anti-fogging, hydrophobic, and oleophobic coatings. And Anon added high-tech magnetics for its quick interchangeable-lens component, plus its MFI technology along the bottom rim of the goggles.
This allows users to take advantage of Anon's WM3 face mask integration. No more cold noses, gaiters slipping down, or ice in your fleece collar. The magnetic face mask attaches directly to the bottom rim of the goggles for a seamless fit and full coverage. We tried the lightweight MFI face mask, but even the lightest layer made a nice difference in blocking out cold.
We wore this goggle-mask combo skiing for a full weekend (in partially sunny and then mixed conditions). And we love the optics, good venting (vents on the top and sides), and magnet quality (the lenses stay in and the mask stays secure).
The goggle is an OK price at $270, but it also comes with a bonus lens to sweeten the deal. The fit is women's-specific and definitely better for smaller faces.
Note: We did experience a little bit of fogging, but that's because our tester was following her local resort's COVID protocol and wearing a two-layer face mask under the gaiter. When we weren't doubling up on face masks, the Anon gaiter worked great to prevent fogging.
Best for: All light conditions and easy face mask integration
Specs:
Lenses:
Frame Size:
Lens Shape: 
Pros:
Comes with a bonus lens
Face mask integration
Good venting
Cons:
Check Price at BackcountryCheck Price at Amazon

Best Budget Women's-Specific: Smith Drift
These goggles offer a great women's-specific fit and are unbeatable for the combined quality and price. The Drift goggles ($75) have cylindrical lenses with lots of venting, an anti-fog coating, and 100% UV protection. These goggles gave us great visibility in almost all conditions during testing.
You can get a choice of CR36 or Ignitor Mirror lenses in the frame; we prefer the latter tint on these goggles. Bottom line: These goggles are comfortable on the face, and they perform well all day. They're also a great choice if you're looking for a budget-friendly pair.
Best for: Skiers looking for great value and a women's-specific fit
Specs:
Lenses: 1
Frame Size: Small/Medium
Lens Shape: Cylindrical
Pros:
Cons:
Check Price at REICheck Price at Backcountry

If you're an expert skier or rider and want a goggle that can stand up to changing weather on the mountain, a photochromic lens is the way to go. The Julbo First Class Cyrius ($250) has a red-based color tint with 17-75% light transmission depending on conditions.
We found the goggles work especially well in cloudy, low-visibility conditions. These are bigger goggles, so they're better suited to those with a fairly large face. One of our editors had issues with them being too large to work well with her helmet, but she still loved the goggles' performance on the slopes.
Best for: Skiers looking for high-end photochromatic lenses that perform in all weather conditions
Specs:
Lenses: 1
Frame Size: Large
Lens Shape: Cylindrical
Pros:
Great in low-visibility conditions
Versatile
Cons:
Not ideal for those with smaller faces
Check Price at AmazonCheck Price at Backcountry

Best Goggles for Backcountry Touring: Julbo Aerospace
If you backcountry ski, you have two options for eyewear on the uptrack: a pair of sunglasses or the Julbo Aerospace goggle ($280). While almost all goggles will get foggy while you move slowly and sweat on the uphill, the Aerospace allows users to pull the frame away from the lens. This gives a large space for venting all the way around the lens.
It works great, as do the Aerospace's photochromic and anti-glare lens (category 2 to 3) for all-mountain riders. We've tested the Snow Tiger model for 2 years and have loved them.
Best for: Backcountry skiing
Specs:
Lenses: 1
Frame Size: Large
Lens Shape: Spherical
Pros:
Great ventilation and minimal fogging
Durable
Cons:
Not the easiest lens-change system
Check Price at AmazonCheck Price at Backcountry

Best of the Rest
Anon's M4 MFI Toric Goggles ($320) are yet another outstanding ski goggle on the market in 2022. We especially like that these goggles are compatible with certain helmets and face masks in a way that creates an incredibly efficient and streamlined setup.
Like many high-end goggles, the M4s feature a magnetic lens mounting system that allows the wearer to make quick lens changes according to the light conditions. The full-perimeter channel vents effectively prevent fog from forming — even when you're winded from trudging up the skin track.
Best for: Quick lens changes and fog prevention
Specs:
Lenses: 2
Frame Size: Large
Lens Shape: Toric
Pros:
User-friendly lens-change system
Good airflow and fog prevention
Cons:
Not ideal for small faces
Check Price at REICheck Price at Backcountry

Ski Goggles Comparison Chart
Why You Should Trust Us
Our team of ski gear testers has more than 40 years of combined experience on the slopes. We remember the days of garbage goggles that would fog in the slightest snowstorm (AKA the 1980s) and really appreciate the incredible capability of modern goggles.
For this review, we've tested dozens of pairs of goggles over more than 10 years. Our latest outing included a full week at Crested Butte, where we skied for a full week and tested goggles back-to-back. And as snow goggle technology advances, so does this article. We update this article multiple times each year. Thus, you will find the latest information when it's time to invest in a new pair of shades.

Buyer's Guide: How to Choose Ski Goggles
With so many goggles on the market, how's a skier, rider, or sledder to choose? Hold on tight as we run through a few key elements of snow goggle selection.
Fit
This should be a top consideration for ski goggles. If you wear a helmet, definitely try on the goggles with your helmet on. You don't want a significant gap between the helmet and goggles, or you'll get cold air blasting your forehead. The helmet should form a close fit with the goggles all the way across the face with no gaps.
Also, make sure the goggles fit your face well and aren't too big or small for comfort. It's really best to try on a few models to make sure you're happy with the fit, both to your face and your helmet.
Finally, ensure the strap is long enough to fit around your helmet and face without too much pressure.
Lens
The lens is the most critical piece of your goggles. Lenses protect your eyes from harsh sun, stinging wind, and flying objects. I once planted a pole into a tree and then skied into the other end of my pole right between the eyes. My Julbo Aerospace goggles protected my head and eyes. It hurt, nearly knocking me out, but it would have been a lot worse without them!
Many lenses come in categories 1-4, with 1 being nearly clear for very low light and 4 being super dark for very bright sunshine. Most goggles fall in the 2-3 category, with many photochromatic models offering a range from 1 to 3. Very few models come in 4, which is intended for only the brightest snow conditions.
But what does VLT mean? Some goggles use another measure, called "visible light transmission," instead of categorization. These goggles denote the percentage of visible light the lenses allow to pass through as their VLT. The higher the number, the more light gets through the lens.
The best lenses for sunny days have a VLT between about 5% and 20%. For low-light conditions, look for lenses with a VLT between 60% and 90%.
Shape
When evaluating lenses, consider the shape. Most are cylindrical or spherical:
Cylindrical lenses curve in a flat plane across your face. This means the lens is flat in the vertical plane. These lenses work well but offer less field of view than most spherical lenses and tend to have slightly more glare. They're usually the less expensive choice.
Spherical lenses have three dimensions of curve and look a bit like a cross-section of a sphere. They cost more to manufacture and therefore have a higher price on the shelves. But for the money, you get a better field of view, less glare, and less distortion.
Color
Finally, you get to choose the color of your lens. Most goggles will have lens colors appropriate for their category, with lighter lenses colored yellow or rose and darker lenses angling toward brown, gray, or copper. Try a few on and see what you like, and try to look into daylight when evaluating the color.
Interchangeable Lenses
Many modern goggles have interchangeable lenses, which allow you to switch lenses depending on light conditions. Consider if a brand sells replacement lenses, which could be a cheap way to replace goggles that get scratched (which they all do eventually). Also, consider if the goggles come with a second or third set of lenses for varying light conditions.
If you plan to regularly change lenses, we recommend paying a bit more for a pair with an easy, quick-change design. It makes mid-mountain changes doable and limits the possibility of damaging the goggles.
Venting & Features
All goggles have some type of venting, and most work pretty well. Consider the foam over vents and if it will ice up or hold moisture on a powder day, as that's a likely way to get fogged goggles. Higher-priced goggles tend to have better foam around the face and over vents.

FAQ
What Color Lens Is Best for Ski Goggles?
There is no best color for ski goggles because different colors work better in different conditions. In low or flat light conditions (like cloudy days and snowstorms), goggles with rose or amber lenses will help increase contrast the best.
For bright, sunny days, most skiers choose a darker lens and may opt for a gray color, although many will still retain a rose or amber tint. Night skiing requires extreme light transmission, so most skiers will choose a nearly clear lens, possibly with a yellow or rose tint.
What Are the Best Ski Goggles for Low Light?
Choose lenses with a high VLT for low light. For low-contrast situations, snow goggles with yellow, amber, or rose lenses will help enhance contrast.
Are Photochromic Ski Goggles Worth It?
For those who want a lens for varied conditions, photochromatic lenses are a great choice. They allow one pair of goggles to meet most needs without having to change lenses.
What Is the Best Lens Shape for Ski Goggles?
Spherical and four-dimensional lenses give skiers the biggest field of view, which equates to better vision to the edges of the goggles. They also give the least distortion compared with cheaper cylindrical lenses. Look for goggles that give you the widest field of view while still fitting your helmet well.
How Long Do Ski Goggles Last?
A good pair of ski goggles can last for several years with proper care. But as with most optics, the biggest risk is scratching the lens. To avoid scratching, only touch the lens with soft, clean microfiber or cotton material, and be careful when brushing off snow with rough gloves or jackets.
One benefit of interchangeable lenses is you can often buy lenses separately, so you can get replacements if you scratch your lens at a fraction of the cost of a new pair of goggles. Quality frames and foam should last for many days on the mountain!
---