We've tested the best face coverings for downhill skiing and snowboarding to keep you warm. Our expert knowledge will help you choose face coverings for skiing during COVID-19.
Skiing in 2021 will look a lot different than in the pre-COVID days. For one, you will likely need to wear a face covering (over nose and mouth!) while in line, on lifts, and riding. Fortunately, we've already been using them for years to keep warm!
Skiers and snowboarders are among the most experienced "mask"-wearers on the planet. That's because a good face covering will block wind, protect you from the sun, keep your face warm, and even provide a little protection from flying objects.
There are tons of options on the market, but we have some favorites. And check out the end of the article for advice on buying the best face mask for skiing. Keep in mind, most of the products listed below come in men's and women's styles and many colors and patterns.
Editor's note: We updated this article in December after receiving new information from ski resorts. At that time, representatives from Vail Resorts, Winter Park, and Arapahoe Basin noted that the resorts accept any cloth mask that fully covers the nose and mouth. CDC guidelines recommend two- or three-layer reusable cloth masks or those with filters. Given that many of these masks are a single layer of breathable material, remember to use a CDC-approved face mask in addition, and socially distance as well.
If you want a mask that does it all — protects from wind, cold, and COVID-19 — check out the second half of this list for our masks recommended for wearing in lift areas and indoors.
We will update this article through the winter as further guidance from the CDC and resorts becomes available. Stay safe, and happy skiing!
Best Face Coverings for Skiing & Snowboarding
BUFF is the original face-covering brand — so much so that most people refer to tube-shaped neck gaiters simply as "buffs." And while you can still get the original in synthetic fabric, for skiing, it's hard to beat merino wool. The Lightweight Merino BUFF ($29-$32) has the advantage of being naturally antimicrobial, so it doesn't get smelly.
It will keep your face warm when wet and is easy to breathe through. This one is pretty light, though, so it's best for moderate temperatures and those who don't mind feeling the wind on their skin. (And it doesn't really do the job in areas where proper CDC masks are required, so pair with a mask from our extended list below.)
Check Price at REICheck Price at Backcountry
The Tube from BlackStrap ($10- $25) uses technical fabric for a highly functional, breathable, and moisture-wicking face covering. It has UPF 50-plus UV protection and is treated with an antimicrobial coating to keep the stink away. The four-way-stretch fabric also gives you great mobility.
Check Price at REICheck Price at Backcountry
Skida makes a bunch of great face-covering accessories for cold weather. Among our favorites is the Cloudberry Alpine Neckwarmer ($28), which uses a Polartec microfleece for soft warmth against the skin.
The exterior fabric of poly-spandex with a moisture management technology (92% polyester, 8% spandex) is durable and has a tight weave to help block the wind. And it's on the thicker side. Simply put, it'll keep your neck warm. Pull it up over your nose for compliance with resort rules in the lift line.
Check Price at BackcountryCheck Price at Skida
A little warmer than most of the neck gaiters here, the Smartwool Neck Gaiter ($30) uses midweight merino 250 wool. The merino wicks away moisture and breathes enough to keep you cozy when the winds howl. But it's still light enough to tolerate on a bluebird day. This one pulls a 4.75-star rating with more than 100 reviews online.
Check Price at REICheck Price at Backcountry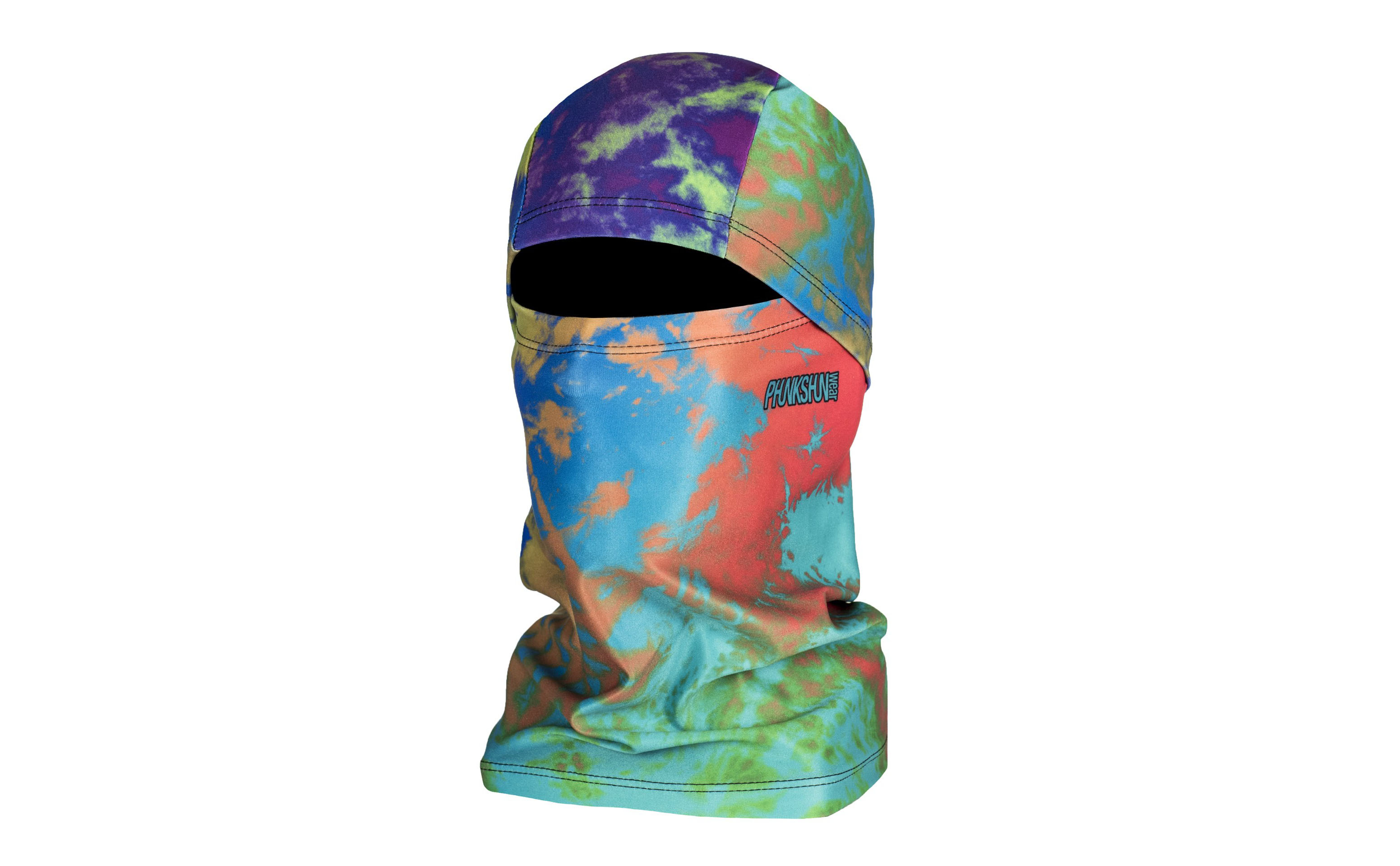 Made in Denver, Colorado, the Phunkshun Convertible Ballerclava ($30) gives skiers and riders versatile functionality through its hinged design.
Move the bottom half of the mask over/off your face to instantly adjust to temperature changes or drink a beverage. Slide it back over your face to help comply with resort face-covering measures. Made with recycled polyester, this is a good value from a small brand.
We've tested this new mask from Anon Optics (founded by Burton Snowboards), and it's definitely a unique one to check out.
The MFI Face Masks ($40-$70) have the brand's MFI (magnetic facemask integration) technology to seal the mask panel to any magnetic ski goggles and provide a seamless and comfortable fit on your face. These face masks come in lightweight, midweight, and wool fabric options.
Check Price at evoCheck Price at Backcountry
The USA-made Hood Balaclava is similar to the Phunkshun, above. But the BlackStrap Hood ($35) uses a slightly heavier "tri-blend" synthetic fabric that works well in colder weather. The four-way-stretch fabric also boasts SPF 50 sun protection. It is helmet-compatible.
Check Price at BackcountryCheck Price at evo
Among the lighter-weight balaclavas, the Oyuki Proclava ($30) has legions of fans. It offers enough head and face covering to block the stinging wind. But it's light enough to not turn your head into a swampy mess on a warm day on the slopes.
Plus, it easily fits under a helmet and transitions from a balaclava to a face mask to a neck gaiter in seconds. The 85% polyester and 15% spandex garment has racked up a perfect 5-star rating at evo.
This polyester-and-elastane blend balaclava ($45) is made with Columbia's Titanium moisture-wicking fabric with Omni-Shield technology, which works to repel moisture, snow, and more. If you don't like the balaclava style (or don't need maximum warmth), it comes in a lighter neck gaiter style too.
Check Price at ColumbiaCheck Price at Amazon
Evo knits its Ridgetop Merino Wool Balaclava from ultra-fine wool for no-itch contact with your face. It uses 260g Stretch Merino (95% merino wool and 5% spandex) for a warm layer to keep your head toasty and mouth covered. Many buyers note that it fits well under a helmet and is fairly thin but still provides significant warmth.
Best CDC-Compliant Masks for Skiing
If you need a CDC-approved mask for trips to towns, resorts, and areas on the slopes where you can't distance, these are all comfortable and great options. (Or check out our full roundup here.)
We've found the best options for skiing and riding are the ear-loop masks. They're the easiest to remove with gloves (no dealing with ties, slides, or beads for adjusting fit).
We didn't test the Outdoor Research Protective Essential Bandana Kit until it came out in January, but once we did, we were in love. This is hands-down one of the best options for skiing or snowboarding. This bandana —unlike most others— is CDC-compliant, with two layers of antimicrobial, sun-protective fabric, and even a pocket for filters.
The pros: the bandana style is less tight or restrictive against your face, and also provides protection against snow and wind on your neck. The cons: it's a bit warmer than other masks we've used, although still breathable. And it didn't get soggy or fog up our goggles.
The velcro closure strap around the back of your head gives a nice adjustable fit, and as a female, I didn't have any issues with my hair or braids getting tangled up or caught. The elastic ear loops are comfortable too. One note: the Protective Bandana is a full coverage mask with a nose wire that loops over both ears — so it's not easy to take on and off. But that being said, you don't want to be fiddling with a mask when you're out on the slopes, you want to be skiing. So pop this mask on and you'll be all set for the lift lines on the way up and the fun on the way down.
Check Price at Outdoor Research
Just $13, Black Diamond's simple and sleek black two-layer mask is a cheap and easy choice. Stash one in your car or boot bag so you're never without protection from COVID-19. These standard two-layer cotton cloth masks are proudly made in the USA.
Definitely some of the softer cloth masks we've seen, Hyperlite Mountain Gear's masks are made from tightly weaved interlock micro-polyester with a skin-friendly DWR coating. The DWR coating is definitely a nice touch and a great feature for when you're moving in and out of ski areas and onto chairlifts. The masks are also budget-friendly — $20 will get you a pack of five.
They are very durable and easy to wash. One note: They have a bendy nose wire that's easy to adjust and great for those who wear glasses, but you won't want to wear this mask all day doing laps.
Check Price at Hyperlite Mountain Gear
New for winter 2020-21, Outdoor Research designed this Balaclava Kit ($23 – $45) for the post-COVID era. The midweight garment covers the head, neck, and face. And the kit includes three breathing filters that remove more than "95% of virus, bacteria, and particles in accordance with ASTM test standards" when worn with the mask, according to the brand.
With customizable fit, UPF 50-plus, and an antimicrobial finish, this one should be a strong choice for the chairlift this season.
Check Price at evoCheck Price at Outdoor Research
Simple, comfortable, and two layers, this BlackStrap mask ($16) is stretchy, comfortable, and easy to slip into even the smallest chest pocket. BlackStrap has a wide variety of neat designs to help you find a mask you actually like to wear. Plus, for each mask sold, BlackStrap will donate a face covering to someone in need.
We've work and tested this mask since early last year, and more this winter too. I've actually started to notice a fair amount of people wearing BlackStrap's mask in lift lines, so it's definitely a popular option.
Check Price at BackcountryCheck Price at evo
Another stretchy, easily washable, and simple cloth mask option is this one from Backcountry. The Stoic everyday face masks (from $13) are 100% breathable cotton adorned with apt phrases like "Shred the Gnar." It's also very easy to remove or pull under the chin once you're away from the crowds. What more could you ask for?
Phunkshun's ear loops do have a point of adjustment behind the ears, but it didn't bother us. And the straps are extra-stretchy and comfortable. We love this Phunkshun PH Face Mask ($20) for bluebird days — wear it on the lift or when shredding, it's breathable and has a 50-plus UPF rating.
Plus, the brand has over 30 colors and designs: like gradient, rainbow, plaid, and even a Newschoolers ski-themed mask! Find one to match your kit so you can ski or ride in style.
How We Chose the Best Face Coverings for Skiing
There are a ton of ski masks, balaclavas, and neck tubes on the market. So if you walk into a store to buy one, you're going to be faced with an incredible number of choices. But here's how we narrow them down.
Brand: It might seem a little shallow, but after decades of combined skiing experience, our team has come to love certain brands when it comes to face coverings. After using some (like BUFF) for literally thousands of outings, we've come to rely on them and can count on them for consistency and quality. So we take this into account when making our selections.
Materials: Choose a face covering made with synthetic fabrics such as polyester and spandex. Other good options use merino wool as the primary material. We love merino for its antimicrobial properties that fight off stink!
Design: We look for comfort first, versatility second, and looks third.
Reviews: We've tested myriad face coverings. But we also consider what other consumers say in reviews.
What to Look for in a Great Ski or Snowboard Mask
When buying a ski or snowboard mask, consider if you want a full head covering or simply a neck gaiter or face cover. Remember, you'll almost certainly be wearing a helmet and goggles while skiing or snowboarding. We recommend trying on your face covering while wearing your other accessories.
Other important factors include fit and versatility, such as the ability to be worn over the whole head or only the face or neck with a transformation.
Due to COVID-19, consumers should be able to cover their nose and mouth completely while on chairlifts, indoors, on buses, or while in lift lines.
Ski Mask FAQs
How Tight Should a Ski Mask Fit?
A ski mask should fit loosely around the face with plenty of fabric to move up and over the ears. For balaclavas, you want a snug fit around your head but a looser fit around the face so it doesn't constrict your movement. Neck gaiters should pull securely around your chin and nose if lifted but bunch comfortably around the neck when worn as a gaiter.
What Is the Best Material for a Ski Mask?
Get a mask that's either a synthetic blend of polyester and spandex fabrics or merino wool. Avoid cotton, as it will retain moisture and be cold against the skin (unless you are looking for a mask to wear around mountain areas and not while physically skiing).
Do Ski Resorts Require Face Coverings Due to COVID?
Yes, most ski resorts will require face coverings in certain areas during the 2020-2021 ski season. You can expect to see face coverings required in areas such as lines, indoor resort facilities, when loading and unloading chairlifts, and loading and riding in gondolas.
What Face Coverings Comply With COVID Restrictions?
We asked representatives of Vail Resorts and Winter Park, and they explained that the resorts will accept most buffs, neck gaiters, and balaclavas that completely cover the nose and mouth. Remember, mask wearing will be combined with social distancing in higher traffic areas of resorts. We will continue to update this article over the course of winter 2020-2021 as new products and guidance emerge.
---