From PCT hikers spending 6 months on the trail to the nascent hiker spending 6 days on their first solo backpacking trip, a good tent is the cornerstone of outdoor preparedness. The right tent can be a shelter from the elements and critters. In the wild, it's a home away from home.
Our team of testers have spent hundreds of nights in tents in weather conditions that run the gamut from excruciating desert heat to frigid winter nights at high elevations to bring you our selection of the best backpacking tents for this year. When it comes to picking a tent, one truth stands out: no single tent will work well for every situation.
Sometimes you want a superlight bivy that just keeps the bugs away on a long hike. Other times, you want a burly winter abode capable of standing up to gale-force winds and heavy snow. Maybe you want that tent that can do a little of everything.
We considered six factors while evaluating the best backpacking tents: ease of setting up, durability and materials, weight and packed size, interior space, weather resistance, and value.
Floor space and packed weight were the most important factors to our panel, while extra features such as pouches and pockets weighed less heavily in our evaluation.
Each tent excels in one or more of these aspects, and we have awarded outstanding models "Best of Rating" corresponding to their outstanding qualities. So whether you are pinching pennies, are ready to splurge on the tent of your dreams, or just want to replace your tattered gear, we have found a tent that can fit your budget and needs.
Scroll through to see all of our recommended buys, or jump to the category you're looking for. At the end of our list, be sure to check out our buyer's guide, comparison chart, and FAQ section.
The Best Backpacking Tents of 2023
---
Backpacking Tent Comparison Chart
Why You Should Trust Us
Ryan Baker, one of the authors, lives in the Eastern Sierra with his wife and enjoys hiking, climbing, and skiing every chance he gets. Last summer, he spent over a month backpacking on- and off-trail following the Sierra High route.
He has hundreds of nights spent in the backcountry from humble beginnings of sleeping under a hardware store tarp guyed out with parachute cord to fully kitted-out backcountry ski tours.
After 20 years of experience, he has learned the value of a true tent. He still prefers to travel as light as possible, whether it is with a summer tent that fits in the palm of his hand or his zero-pound all-season tent for ski tours in the dead of winter.
Chris Carter, another author of this guide, has thru-hiked the Triple Crown of long trails in the United States: the Pacific Crest Trail, the Continental Divide Trail, and the Appalachian Trail. He's spent so much time in flimsy backpacking tents that he almost sleeps better in them than under a roof.
We believe every adventure requires the right tool for the job, and a good night's sleep in a capable tent is essential for success in the backcountry.
Buyer's Guide: How to Choose a Backpacking Tent
Do you plan to camp alone or with your family? Are car camping tents your jam, or do you regularly head out for weeks in the backcountry? Are you strictly a summer camper, or do you sleep outside all year long?
There's no right or wrong answer, but being clear on how you want to camp will make choosing a tent easier. The Zpacks Plex Solo may work for some users who want to go as light and minimalist as possible.
On the other hand, the REI Co-op Trail Hut, while heavier, provides a budget option for those who don't plan to hike as far and want a little more room. Using the six factors we listed at the start of this article as a guide, finding the best backpacking tent can be a simple errand of choosing which qualities are most important to you.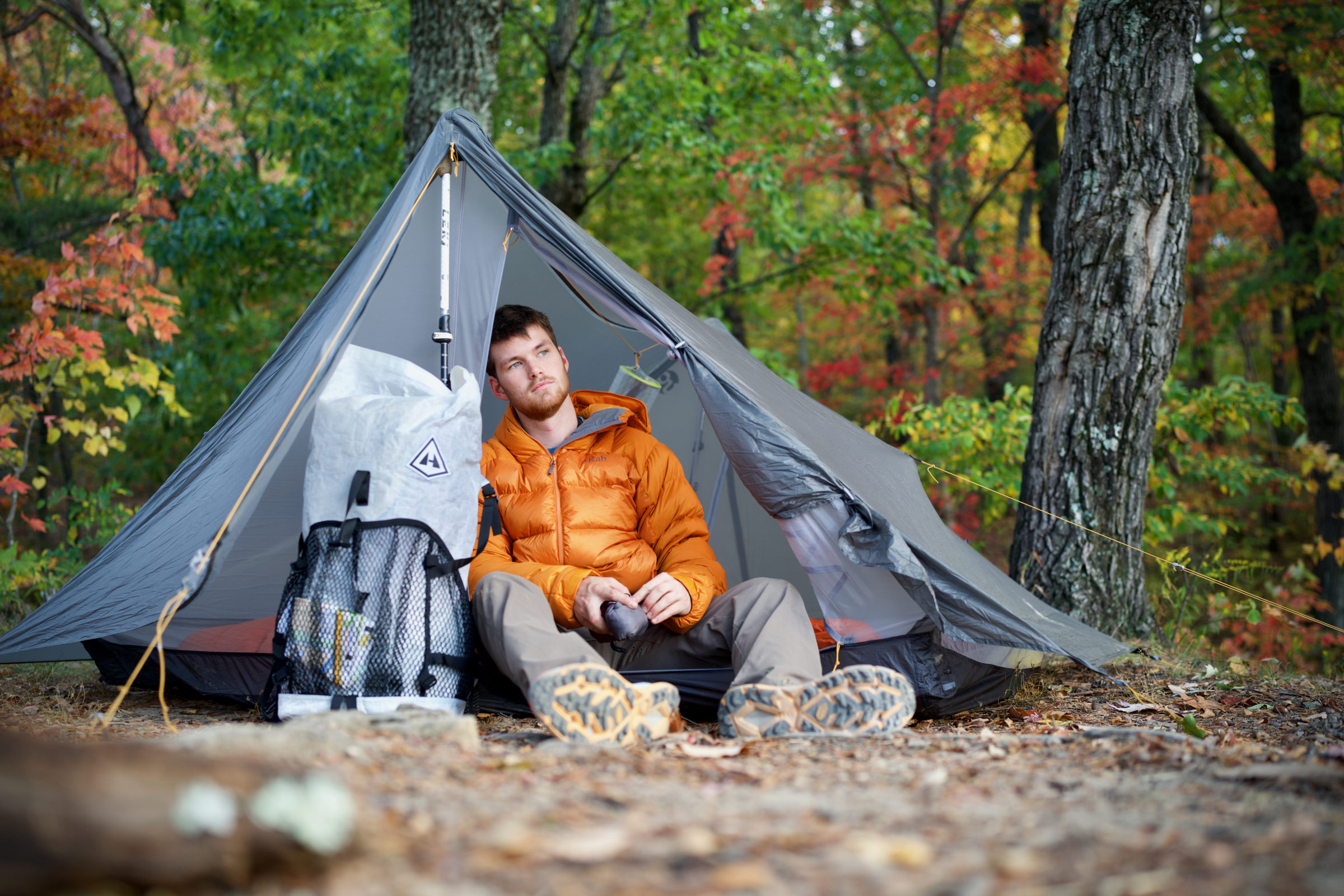 Ease of Setup
This is your first moment with your brand-new tent and maybe you can intuitively figure out where everything goes, or maybe you need to reference the manual every step of the way. Some tents make setup easy with color-coded poles or poles that are all the same length.
Single-walled winter tents are notorious for barely making room for poles in the material to hold a taut exterior. Still, other tents need numerous guy lines to hold in place and aren't freestanding without them.
Whatever the case may be, our preference is that the easier a tent is to set up, the better. Of course, domes for alpine basecamps are going to be more difficult than a two-person bug net.
The Sea to Summit Telos has many hubs connecting different length poles, so it pays to try and set this type of tent up in advance. However, the Hyperlite UltaMid simply calls for two trekking poles lashed together in the center with equalized guy lines. Preference is king and no matter what design suits your experience level, always practice setting it up at home before you go.
Freestanding and Non-Freestanding Backpacking Tents
Many manufacturers have opted to shave ounces by structuring their tents around the trekking poles hikers are already lugging around, simplifying the setup and greatly reducing pack size. These designs are often found in ultralight tents, such as Gossamer Gear's The Two, and Durston's X-Mid. They usually require a minimum of four stakes in the ground for them to stand up. Some non-freestanding tents, such as REI's Flash Air 2, come with lightweight vertical support poles that can be used in lieu of trekking poles, for those who tend to hike without them.
Non-freestanding tents use the tension provided by stakes firmly planted around the trekking or support pole to hold the poles in an upright position. The stakes should consequently be on the longer side, and driven into the ground at an angle, or reinforced with large stones. Short stakes placed in loose or sandy soil can be easily plucked out by a strong gust of wind, causing your nylon home to fold in around you at three in the morning.
These non-freestanding models are often lighter but are not the best choice for every environment. Ensuring you have adequate ground for stakes can be frustrating for some, and sporting a simple freestanding tent, like Nemo's Dragonfly, could be a game changer for easy camp setup. Frantically poking around in rocky earth to pitch your tent as a surprise storm sweeps in is a deflating experience.
Freestanding tents tend to, in general, boast higher durability in inclement weather than their non-freestanding siblings. Introducing trekking poles to the equation eliminates some of the integrity in its structure, making them less ideal in truly heinous storms or driving wind. Ultralight trekking pole tents can hold their own — don't get us wrong — but a freestanding tent will almost always prove the more stable shelter.
Durability and Materials
Most tents for backpacking are made from nylon fabrics, Dyneema Composite fiber, or polyester. Each of these materials has its unique benefits, from lower cost to tougher weather resistance or ripstop qualities.
Cuben fiber has proven to be an excellent material that is very lightweight and extremely weather-resistant. It also resists tearing — but it is expensive. Unfortunately, it can puncture relatively easily, but crosshatched reinforcement prevents further tearing.
Nylon is a less costly material but is also less durable. Often it is reinforced against the elements with polyurethane, silicone, or acrylic coating. This makes it more water-resistant but less breathable. Polyester is heavier than nylon and also not particularly breathable.
The thickness of the material is measured in denier units, which are basically the density of fibers measured in grams over meters. The lower the denier count, the lighter the material. Lower deniers are great for reducing pack weight but require more care to prevent rips and tears.
Lightweight tents will usually have 15-20-denier fly and floors. And a heavy car camping or winter tent will have a rating as high as 75 or more.
Then there are the poles. In an effort to reduce weight, as mentioned above some tents such as the Zpacks Duplex or Hyperlite UltaMid forgo their own poles and instead rely on trekking poles to provide structural support. Always be sure to check that your trekking poles are compatible with your tent.
Tent-specific poles are comprised of carbon fiber, aluminum, composite, or a combination. Aluminum is light but not nearly as light as carbon fiber or some of the proprietary composites offered today. Aluminum poles are usually found in more affordable models and can withstand rougher handling.
For durability, we like to use a footprint, which usually has to be bought separately. You can always fashion a custom footprint by cutting a piece of Tyvek, which is available at most hardware stores but lacks the grommets and fastening points of a manufactured footprint.
Buying from the manufacturer insures a proper fit and usually will snap, click, or tie in to integrate with the tent. A lot of ultralight backpackers are going with a crazy light polycryo footprint like this one to shave even more grams.
Tent stakes also come in a variety of materials. Carbon fiber tent stakes, such as those offered by Hyperlite, are light but have a thicker circumference compared to aluminum and are therefore bulkier. Saving weight is an important goal, it all just depends on how much you are willing to spend.
Weight and Packed Size
If you only plan to car camp, weight and packed size aren't major concerns. But anyone planning to haul their tent into the backcountry should take a hard look at these considerations.
An ultralight tent, such as Gossamer Gear's The Two or The One, is a great option for backpacking or thru-hiking. It doesn't take up a lot of space or weight in your pack, meaning you can justify bringing a favorite flask or a few extra snacks. But due to the light materials, it's not as durable as heavier tents and requires more care. The Kelty Late Start 2 is over twice the weight at 4 pounds, 8 ounces, but is significantly cheaper.
So, you need to balance your needs for weight against durability and cost. You may find that some tents, like the Zpacks Duplex, hit the best of both worlds by using ultra-strong, super-light Dyneema (cuben fiber) fabric.
The REI Arete can seem a like backbreaker compared to lighter tents, but it has loads of headroom and luxurious space. If you are splitting a tent between many people, the extra pounds get spread out. If you are planning a solo thru-hike, coughing up the cash for a small, light tent can save you a lot of back pain. It's also a good idea to make sure your tent fits well in your backpacking backpack, and leaves space for the rest of your kit, before heading out on extended trip.
Regardless of your choice, be honest with yourself in considering your likely uses. If you expect to do a lot of car camping, it's smart to carry a little more weight in exchange for durability.
There are large books written on shaving weight for backpacking. The uninitiated may balk at tent prices before a trip, only to learn the hard way that every gram really does add up.
Interior Space
To save weight, you have to be willing to snuggle into a two-person tent and rub shoulders or smell your partner's feet. Ceiling height is an important consideration as well.
Ultralight tents like the Six Moons Designs Haven or the Hyperlite UltaMid still offer high ceilings, but they often have more roof angles and less overall room compared to freestanding tents.
The UltaMid is one of the roomiest tents, with over 50 square feet of floor space and a 64-inch ceiling. The benefit of a traditional tent like the REI Co-op Arete is that it doesn't have a pole through the center of it.
Interior space in a tent equals comfort. The main things to consider are floor dimensions, length, and ceiling height. Tents have a stated number of people they sleep, but how roomy or cramped they will be at capacity varies by brand.
If you are only packing the tent for "just in case" or to mostly store gear, you can downsize to a lighter, more cramped model. Pay attention to dimensions in the specs from a manufacturer, as they can give you a good idea of how many sleeping pads will fit in it.
Weather Resistance
Basic tents handle pleasant weather like a champ and can even manage light rain and wind. But if you plan to camp during rain or snow storms (which often roll in unexpectedly), it's worth it to save up and buy a sturdier tent.
In the event of a storm or condensation buildup, all tents also need ventilation to adequately remove moisture. The Sea to Summit Telos excels in this category with a rollaway fly that can be left open on a warm day to allow all of your items to dry while you are away.
Anything can happen on an extended backpacking trip, and you need to have a shelter that will protect you in driving rain or hail, brutal heat during summer months, or snowy whiteouts in the winter — all while maintaining a lightweight package that easily fits in your bag.
It's a tall order. But all of the tents on this list have been tested for durability and quality, and we would feel comfortable battling the elements with them.
Many four-season tents are single-wall models. The benefit of a single-wall design is that there is no gap for wind or precipitation to sneak in. Check out our Winter Tent Review for more insight on this topic.
Double-wall designs are far more common for three-season or summer tents. Removable rain flies are a plus if all you need is a barrier from the mosquitos and you want to stargaze.
If you are confident in the forecast, dropping the fly can bring you to what some call "trail weight," which refers to leaving out the extra parts to achieve the bare minimum weight.
Vestibules are an important feature to have in inclement weather. They act as a miniature mudroom and provide space for gear storage.
The Big Agnes Copper Spur adds a unique design with its awning vestibules. Sealed seams also help buffer against the elements and leakage.
If you plan to use a tent in a wet, rainy, or snowy environment, consider doing this yourself, as seams are a weak point in the waterproof protection of a fly or single-wall tent. Conveniently, Six Moon Designs will seam-seal its tents for an extra fee, but this will likely delay shipping time.
Value
It is hard to put a price tag on the nights of adventure and comfort that a backpacking tent provides. Cost is directly related to the quality of the materials and the packed weight.
The REI Co-op Trail Hut is a case in point when it comes to value for the budget hiker, as it's light on the wallet but heavy on the back. A frugal hiker can save money on this piece of gear to spend more on other necessities like a sleeping bag and backpack.
Manufacturers realize that the entry cost of this passion is steep and provide economical options to fit any budget. With proper care and maintenance, the most affordable tent can last many seasons.
The Kelty Late Start 2 is an example of an entry-level tent that provides great features for a fraction of the cost of something like the Hyperlite UltaMid. On the other hand, the UltaMid gives the savvy, dedicated hiker what they have longed for on many arduous miles — a tent that weighs next to nothing and is durable and easy to set up.
The value of a tent is really the ratio of enjoyment versus cost. All of the tents we tested have a high value when paired with the right user. Sit down, and write out a budget that not only includes how much you have in the bank but also indicates how dedicated you are to the sport. Plan to spend about a quarter to a third of your budget on a tent.
The true backcountry addicts — and those that feel the hook sinking in their lip after their first adventure — will almost certainly own more than one tent for their lifetime of outdoor adventuring.
Not all tents can handle every environment perfectly, but are instead tailored to a range of conditions. A good rule for gear is to start within your budget with a versatile option. As your passions grow, your gear will become more specific. Purchasing the best backpacking tent for your needs is no small task, but it is also exciting and will open up many new doors to the natural world.
FAQ