No matter how cool or comfy a camp chair is, it's not a backpacking chair unless you can carry it. For this review, we looked for chairs that offer a good balance of support and durability, are packable, and weigh under 4 pounds.
To choose the best backpacking chairs, we researched and ranked more than 10 chairs from eight brands. We evaluated chairs based on their features, price, feedback from our testing, and the volume of positive reviews.
If you need help determining your unique needs, check out our comparison chart, buyer's guide, and FAQ. Otherwise, scroll through our picks for the best backpacking chairs of 2023:
Editor's Note: We refreshed this article on September 5, 2023, adding a product and several photos, and ensuring each existing chair is in stock and up-to-date.
The Best Backpacking Chairs of 2023
---
The Best Base Camp Chair
While this didn't make the cut for backpacking (it doesn't meet our weight requirement), it's still one of our favorites from base camp to trailhead and lots of places in between.
Backpacking Chairs Comparison Chart
How We Tested Backpacking Chairs
Miya Tsudome is one of the primary gear testers on this review. Combining a decade of backpacking experience with years of authoring gear reviews, she's well-suited to help you make the most informed purchasing decision for your backpacking chair needs.
Living in Bishop on the flanks of the Sierra Nevada mountains, Miya spends most of her summers backpacking out to alpine climbing objectives and knows how nice it is to have a comfortable seat to lounge in at the end of a long hiking day.
She and the other testers on this review spent several weeks assessing the comfort, stability, ease of setup, packability, and more for all 13 chairs in this lineup. This information will help you wade through the plethora of chairs on the market to find the best backpacking chair for you.
Buyer's Guide: How to Choose a Backpacking Chair
Comfort/Back Support
Although you might want a chair that is light and small enough to pack on your backpacking trips, it's nice to find one that doesn't skimp on comfort or back support if you're looking to lounge at the end of a long hiking day.
The REI Flexlite Air Chair provides the perfect amount of comfort and back support along with its light weight, which is why it's our top pick. With an 11-inch seat height, your back is well supported when you settle into the chair, allowing you to lean back without feeling unstable.
The Helinox Ground Chair, Chair One, and Chair Zero all have similar seat heights and durable, supportive fabrics in their large bucket seats — making them all comfortable models.
Although the Crazy Creek Hex 2.0 chair doesn't have the rigid legs or structure of a typical camping chair, this model is remarkably comfortable. Because you have the ability to adjust the straps, you're able to configure the angle of the back support just how you like it, and we loved being able to lean back with the full support of the chair cradling our bodies.
Taking the concept of the Crazy Creek even further is the Therm-a-Rest Trekker Chair, which allows you to insert your sleeping pad into the chair design to create the plushest seat out of all the ones we reviewed. The only downside is you must have a compatible sleeping pad in addition to the chair.
Lower on the general comfort list are the chairs without any back support at all. This includes the Therm-a-Rest Z Seat and the Hillsound Equipment BTR Stool. These chairs are made for more practical use instead of long-term lounging, and are also lighter than traditional camp chairs as a result, which may be desirable for some folks.
Stability
Because these backpacking chairs will likely be used on varying terrain, stability is an important feature to consider when making your purchasing decision. Our runner-up chair, the Helinox Ground Chair, is a great choice in this regard, with its low-to-the-ground, square-shaped base.
This unique design feature distributes weight more evenly across the ground, making it less likely you'll tip over on uneven terrain. It is also lower to the ground than other backpacking chairs in our lineup, making it even more stable.
Other chairs that rank high in the stability category are the Crazy Creek Hex 2.0, the Therm-a-Rest Z Seat, and the Therm-a-Rest Trekker Chair. Since none of these chairs have legs and all are seats that are placed directly on the ground, there's little to no chance they will tip over, and they easily can be used in sand, on rocks, on slopes, or snow.
Size and Weight
Backpacking chairs are not really an "essential" backpacking item, but they sure can make your camping experience much more comfortable. Still, size and weight are important things to consider when choosing a chair to purchase. You want to be sure the chair won't be too bulky to fit in your backpacking backpack and that it's light enough to justify bringing along.
The Therm-a-Rest Z Seat is without a doubt the lightest and most compact "chair" in our lineup. Weighing in at a mere 2 ounces and folding up accordion-style into a size barely wider than a Nalgene bottle, this seat can easily fit in your pack without adding bulk or weight. It's definitely the best choice for the ultralight backpackers who aren't looking for a chair per se but a nice seating pad for keeping your bum warm at camp.
The Hillsound Equipment Stool comes in at a close second, weighing in at 12.2 ounces and also folding up into a compact cylinder that can be stowed easily in one of the outside pockets of your pack.
Both of these chairs are the lightest but also lack back support. If you want a lightweight, packable chair that is actually a proper "chair," the lightest one is our category winner, the REI Flexlite Air. Weighing in at only a pound and folding up into a small 5×16-inch package, this chair is a great choice for those who are conscious about weight but don't want to sacrifice back support.
The Helinox Ground Chair and Chair Zero are also good bets, weighing in at 1 pound, 4.8 ounces and 1 pound 2 ounces, respectively, and both pack up into a small size.
Lastly, the Crazy Creek is also a great compromise between being lightweight and packable (but without sacrificing back support). It comes in at a lightweight 1 pound, 5 ounces and is a more comfortable folding chair overall, making it our preferred choice of chairs in this design category.
Ease of Setup
Every backpacking chair we reviewed has relatively simple setups, allowing you to get from pounding the trail to lounging at camp as quickly and painlessly as possible. Some chairs are noticeably easier to set up than others, however, which we will discuss in this section.
Indisputably the simplest chair in the lineup is the Therm-a-Rest Z Seat. Since it's just a small, insulated pad, it folds up accordion style and can be dispatched as quickly as removing the attached rubber band holding it together, opening it up, and sitting down.
The second easiest to set up is the Hillsound Equipment BTR Stool. Simply extend and twist the legs open, and the stool is ready to use.
The Crazy Creek is also a breeze to set up but takes a second to adjust. You'll want to open up these folding seats and sit inside of them while adjusting their side straps for the most comfortable fit and to find your preferred angle.
The rest of the chairs in our review follow the standard camping chair setup: unfold the chair legs and connect them into all their joints to make the frame, then simply stretch the seat fabric and install their corners into the designated chair legs. This takes a minute or two tops.
Backpacking Chair vs. Camping Chair
This comprehensive review specifically covers the best backpacking chairs, which might make some of you wonder what the difference is from camping chairs. This is an important distinction to make.
To qualify as a backpacking chair, these seats must be lightweight, pack down to a relatively small and portable size, and be simple to set up. When going on a backpacking trip, whether it's overnight or a multiday trek, space in your pack and weight matter. All of the chairs in our review (besides the Coleman Quad) pack down to a size that will fit into or on the outside of a backpacking pack.
If you do a lot of car camping, however, which means you're driving up to a campsite and carrying all of your gear in your car, you might want to consider buying a camp chair instead. These types of chairs will typically be bigger and more comfortable, with taller backs for support, and sometimes accessories like cup holders or extra cushioning in the seat or backrest.
The Coleman Quad is a great example and simply folds open and closed, making it a breeze to grab out of the tailgate and pop open by the fire.
Different Types of Backpacking Chairs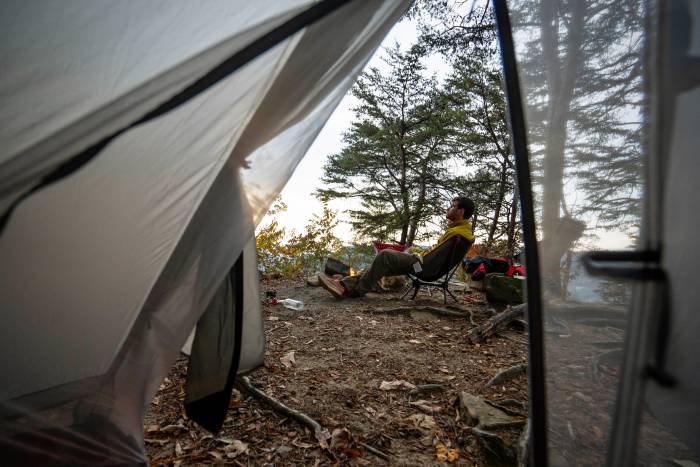 While they may seem like a relatively simple purchase, backpacking chairs actually come in many different shapes and sizes. The most common type is the two-piece, legs plus fabric bucket seat chair. The REI Flexlite Air, Helinox Ground, Chair One, and Chair Zero, ALPS Mountaineering Dash Chair, and Big Agnes Skyline UL Chair are all of this design, with collapsable legs and a fabric seat that can be rolled up and packed into your backpack.
Other types of chairs you can find for backpacking are stools, like the Hillsound Equipment BTR or foldable chairs like the Crazy Creek. Stools can be great to have on a fishing or river trip, and foldable chairs are a great ultralight option for lounging at camp after a long day of hiking without carrying too much weight or bulk.
The most unique style of backpacking chair we've come across is the Therm-a-Rest Trekker Chair, which uses your sleeping pad to make a plush, comfortable camp seat. While it requires you to have a compatible sleeping pad, it utilizes something that's already in your pack to create a chair, which we really like. Plus you can use it without the pad as a foldable seat, making it a versatile option.
Lastly is the ground pad style seat, like the Therm-a-Rest Z Seat. While it may not look like much, this insulated pad is also versatile and so light it's hard not to pack. The difference between sitting on the cold ground and having an insulated piece of foam underneath you is night and day, and you can also use it as extra cushioning underneath your sleeping pad or to extend it if you have a three-quarter-length pad.
It's worth taking a moment to think about how you will most likely utilize your chair before deciding which will be the best backpacking chair for your needs.
Build Quality
Backpacking chairs come in all shapes and sizes and are made with different materials that affect their overall build quality. Helinox is high on the list in terms of the quality of materials in its chairs, with its lightweight, aluminum leg poles and ripstop polyester seats. The REI Flexlite Air and Flexlite Camp Boss are made with the same materials, ensuring their light weight is met with a high-quality design.
Big Agnes is a company that doesn't skimp on quality either and is known for top-shelf tents and sleeping bags. The company's chair game is no different. The Mica Basin and Skyline UL are made with what Big Agnes calls "aircraft aluminum pole systems," and the proprietary high-tenacity Robic nylon with polyester ripstop ensures durability.
While the Crazy Creek Hex 2.0 may look like a simple chair, it's made with 8mm high-density cored EVA closed-cell foam which provides insulation and has a durable outer shell made with 210D coated ripstop nylon for abrasion-resistance and weatherproofing. The carbon fiber stays within the folded seat are remarkably strong and ensure you'll have a chair that lasts trip after trip.
FAQ