Make the most of your home away from home by choosing the best camping tent for your adventure. We found the top car camping and family camping tents for every budget and use.
Choosing a camping tent is a big decision and investment. A leaky, poorly designed tent can quickly ruin a camping trip. But a good tent will keep you comfy and cozy, creating the perfect home base while exploring outdoors.
We have more than a decade of collective experience camping and testing tents. Between that knowledge and our focused yearly testing, we've identified the best camping tents.
During testing, we focused on ease of setup, spaciousness, weather resistance, and comfort. We also look for durability, value, and extra features.
This article focuses on car camping and family camping tents. We have a separate article identifying the best backpacking tents if you're looking for something lighter and more packable.
The Best Camping Tents of 2020
The REI Kingdom 4 is a palace of a camping tent. With nearly vertical walls, a rectangular floor, and 75 inches of peak height, the interior living space on the Kingdom 4 is massive. There's space to hang out with your family, sit in chairs, lie on cots, or whatever a group of four would desire.
But the Kingdom 4 goes way beyond spacious. REI also nailed ventilation, vestibules, and doors.
While this is a big tent, we found setup and takedown reasonably easy thanks to the hubbed pole assembly, pole clips, and sleeves.
REI also gives campers the details they expect in a high-quality tent. There are internal pockets and storage everywhere along the steep walls. The zippers are large, the doors are massive, the vestibules have space for four backpacks each, and the poles are color-coded for easy setup.
The only negative is, well, the sheer size. It weighs more than 18 pounds and is tall and wide. In high winds, it's a sail, but if you want a large tent, that's just how it is. We've heard complaints of leaking but never experienced a problem even during consecutive rainy days.
If a four-person tent isn't big enough, REI also makes the Kingdom in six- and eight-person models.
Weight: 18 lbs. 8 oz.
Height: 75″
Pros: Spacious, easy setup, interior pockets
Cons: Heavy, not suited to windy conditions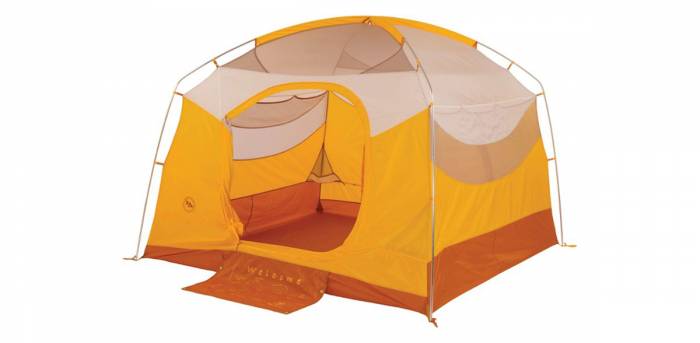 This super-roomy tent will keep the whole group comfy all weekend long. You can easily stand up inside, and with 83 square feet of interior space, there's plenty of room to spread out. As with most large family camping tents, it doesn't do great in extremely windy weather. Otherwise, it offers up a lot of great extras.
The welcome mat gives muddy shoes a place to stay, and the eight interior pockets keep gear organized and easily accessible. For more storage, there's even a gear loft sold separately. It's possible to set it up alone, but it's definitely easier with two people.
One of our features is the ability to set it up as a sun shelter. Simply set up without the tent, using just the poles and rainfly. It's a great option for family get-togethers to quickly create a bit of shade. You can either use the included webbing harness or set it up with a matching footprint (sold separately).
And the attention to detail continues to the carry bag. It was easy to pack up and the backpack strap design makes hauling in the tent much easier.
Weight: 16 lbs. 7 oz.
Height: 81″
Pros: Roomy, 2 doors, shade canopy feature
Cons: Not built to withstand extreme weather
This tent is a great value. For just $150, you get a large tent that sets up quickly, offers plenty of space, and can withstand inclement weather. It's a great option if you're just getting into camping, looking for a budget pick, or need something to entertain the kids in the backyard.
The Discovery 4 offers up 57 square feet of space, plus another 17 square feet in the vestibule. The color-coded rainfly clips made it easy to identify the proper setup. And the duffle carrying bag was large enough when it came time to pack it up.
And while I was able to set it up solo, the straight, fiberglass poles and classic sleeve design did take bit more effort than other tents listed here.
Most impressively, this tent weathered a sudden storm like a champ. The poles held strong during heavy winds and rain. Anyone looking for a sturdy, budget-friendly tent should consider the Kelty Discovery 4. It's also available in a six-person design.
Weight: 10 lbs. 7 oz.
Height: 56″
Pros: Great value, sturdy design
Cons: One door, lower ceiling height
This tent is a classic bargain. You can score a four-person tent for $106 or grab a two-person model for just $51. And with more than 10,000 raving reviews on Amazon, it's clear plenty of people love this tent.
That said, there is a difference between an inexpensive tent like this and the higher-end models. Here, you will get fiberglass poles instead of aluminum. They will work for a lot of car camping situations but less durable and weaker than aluminum.
The construction is sturdy, though it's lacking in some finishing details and long-term durability. We've had a few issues with the zipper snagging, and the heavy fabrics increase the likelihood of condensation buildup. But for a budget tent, it will get the job done.
With 63 square feet inside, it would be a tight fit for four people, but we found it plenty roomy for two. And it's worth noting that there isn't a vestibule for extra gear storage. The rainfly covers the top and generally works well. But in extra-wet conditions, leaking at the corners can be a problem.
Weight: 9 lbs. 7 oz.
Height: 59″
Pros: Budget-friendly
Cons: Lower quality, low ceiling height
This tent is built to withstand storms and is a great choice for anyone camping in unpredictable, inclement weather. While testing in the Rocky Mountains, we experienced sudden high winds and heavy rains. Nearly every tent experienced some damage, from broken poles to leaking. But the Marmot Limestone was completely unfazed. It remained sturdy and dry through it all.
It's not as tall or roomy as some car camping tents, but it could be worth it for excellent weather protection. With 60 square feet of floor space, you can squeeze in four people, or spread out and sleep comfortably with just two people.
The large double doors makes coming and going easy. And the pre-bent poles make for quick setup. There is a vestibule on one side for holding extra gear, but it isn't as large as some gear garages offered.
If you don't mind not being able to stand up inside, this tent is a great option. Interior gear pockets keep you organized, plenty of mesh allows for maximum airflow, and the weather resistance can't be beat.
Weight: 11 lbs. 11 oz.
Height: 61″
Pros: Excellent weather protection, lighter weight
Cons: Lower peak height
Best Crossover for Camping and Backpacking: REI Half Dome 3 Plus ($279)
If your camping plans might include a few days on the trail backpacking, the Half Dome 3 Plus is an excellent choice. With a minimum trail weight of 5 pounds 14 ounces, it's possible to pack this in (though there are certainly lighter backpacking tents available).
The double doors and vestibules provide space for gear and make it easy to come and go. We also like that trekking poles can be used to turn the vestibule into a covered patio. It's a great option to combat claustrophobia during unexpected rains.
Color-coded poles simplify setup. And the internal pockets and loops keep everything organized. All in all, this is an excellent crossover tent. It offers enough space to be comfortable car camping and is light enough to take backpacking.
Weight: 6 lbs. 6 oz.
Height: 46″
Pros: Light, packable, easy to set up
Cons: Smaller, low ceiling height
Best of the Rest
At 13 pounds 3 ounces, the Homestead Super Dome 4 is a big car camping tent fit for families or a few adults camping out for the weekend or enjoying a summer festival. It has a huge door, two large mesh windows, and a 13-square-foot vestibule that leads to a tall dome with a 56-square-foot interior.
Six giant pockets, an internal clothesline, big windows, and a mesh ceiling make this an abode worthy of group get-togethers. I was able to easily set it up alone. And even though it is tall, it was easier than the REI Kingdom 4.
At 80 inches tall, most people can comfortably stand inside. This means it's comfortable and extremely roomy. On the flipside, it's not the best performer in heavy winds. It did well during a rainy night, but it's not ideal in extremely blustery conditions.
If you're looking for a stylish, comfortable, easy-to-set-up tent for mild conditions, this is a great option.
Weight: 13 lbs. 3 oz.
Height: 80″
Pros: Roomy, large vestibule, zip-down windows
Cons: Large, not built to withstand extreme weather
See the TNF Homestead Super Dome 4
If price is your primary concern when buying a tent, but you still want good quality, the Kelty Late Start 2 is the best place to look. At $160, the Late Start 2 is far from the cheapest tent on the market. However, it's a very nice tent that will last for several seasons while hitting a price point that most people won't balk at.
The Late Start 2 packs down to 16 x 7 x 7 inches. While certainly not tiny, it will work in a backpack. Similarly, at a minimum weight of 4 pounds, it will work for modest backpacking excursions.
It sets up super fast with a simple two-pole design. Once up, the bathtub floor offers a slight overlap with the rainfly, so splashback could be an issue in heavy rain and wind. It has small vestibules barely big enough for a single backpack, but they will suffice for hikers on a budget. And two small pockets offer space to stash a couple of important items.
There are better tents out there, but you'll pay more for them. For $160, this one is a value that should last through lots of happy camping.
Weight: 4 lbs. 8 oz.
Height: 40″
Pros: Good value, easy setup, quality construction
Cons: Heavier, not built for extreme weather conditions
This pop-up tent makes fast work of setting up camp. The telescoping poles quickly and easily extend for setup. There's no weaving poles through loops or walking in circles to secure things. Simple unfold, pop up, and voila, camp is ready.
The integrated gear loft and side storage pocket keep gear organized, and the mesh windows provide adequate ventilation. With a floor area of 100 square feet, there's plenty of interior space for people, pets, and gear.
Aside from the bulky weight, the main downside is the subpar rainfly. It sits close to the tent but stops several inches short of the ground. And while there's an overhang at top, it leaves the door completely unprotected. This is a recipe for leaking during heavy rain.
But the quick setup may be a worthy trade-off for anyone looking for a quick pop-up tent.
Weight: 25 lbs. 8 oz.
Height: 80″
Pros: Quick setup, roomy
Cons: Very heavy, bulky
This tent has the benefit of being pitch-dark inside, even during the daylight hours. This also means it will stay a bit cooler once the sun rises. And while it's not a particularly high-end tent, the Carlsbad 4 is an OK shelter.
The entry vestibule is well-thought-out to avoid tracking in mud or water. And the floor is very heavy for those wearing shoes in the darkened abode. It also has some decent venting, so it should stay reasonably dry.
But flimsy fiberglass poles, tricky setup, and odd/heavy darkened design should exclude this tent from most serious campers' to-buy list. If you're looking for a large budget tent that keeps it dark all day long, this one is worth considering at a low price of $152.
Weight: 16 lbs. 1 oz.
Height: 59″
Pros: Vestibule is great for dogs, sleep in late with blackout lining
Cons: Longer setup, flimsy poles, heavy
How to Choose a Camping Tent
A tent is a big investment, so it pays to figure out what you need. Below you'll find a list of important considerations. But before we get there, take a moment to imagine your camping future.
Do you plan to camp alone or with your family? Are car camping tents your jam, or do you regularly head out for weeks in the backcountry? Are you a strictly summer camper, or do you sleep outside all year long?
There's no right or wrong answer, but being clear on how you want to camp will make choosing a tent easier.
Space & Capacity
Floor space in a tent equals comfort. The main things to consider are floor dimensions and ceiling height. Tents have a stated number of people they sleep, but how roomy or cramped they will be at capacity varies. By paying attention to floor dimensions, you can get a better idea of how many sleep pads will fit.
When backpacking, plan to save weight by being willing to snuggle into a two-person tent. But car campers will find maximum comfort by subtracting a person or two from the stated capacity.
Ceiling height may not seem important — until the weather turns and you find yourself hunkered down inside for 6 hours. At that point, you'll be happy you're able to at least sit up comfortably and perhaps even stand in the bigger family tents like the REI Kingdom 4.
It's worth noting, though, that a higher ceiling can make for a more challenging setup. At a height of 5'5″, I was able to set up all tents listed here solo, but the REI Kingdom 4 and Big Agnes Big House 6 were challenging due to their tall height.
Weight & Packed Size
Weight and packed size are more important when choosing a backpacking tent, but it's still something to consider. Whether you plan to hike in a short distance or simply maximize the gear that can fit in your car, a tent that packs up well is easier to transport and use.
The REI Kingdom 4 has one of the largest packed sizes, but the bag design is top-notch. There are separate zippered compartments for the poles, tent, and stakes. And the backpack straps make carrying it a cinch. The Kelty Discovery packs much smaller in a single-compartment bag.
There's no right or wrong, but having a pack design you like will make it more pleasant to use.
Weather Resistance
This is one of the biggest reasons to invest more in a tent. Basic tents handle pleasant weather like a champ and can even manage light rain and wind. But if you plan to camp during storms (which often roll in unexpectedly), it's worth it to save up and buy a sturdier tent.
Premium tents have stronger poles, full rain covers, and sealed seams. And it's things like this that seem less important — until you find yourself riding out an epic storm from the confines of your tent. While testing, we experienced a major thunderstorm complete with high winds and heavy rain.
Each of the tents had been properly staked out, but many experienced damage. The Marmot Limestone 4P performed incredibly well, with no leaking or broken poles. And surprisingly, the Kelty Discovery also did well. There was minimal leaking in one corner, but the poles didn't break even in high wind.
Value
The value of a tent investment often has to do with how often you camp. If you camp every weekend, spending $600 on a tent could be worth it. This is especially true if you plan to camp into the colder seasons and need a tent built to withstand weather.
On the other hand, if you're just starting out or plan only a few nights out each summer, a budget pick like the $150 Kelty Discovery will help you sleep outside without breaking the bank.
---
Have a favorite tent we missed? Let us know in the comments for future updates to this article.
---
Now that you have a tent, let's find the perfect sleeping pad and bag: